Maintenance
Recommended Maintenance Schedule(s)
Maintenance Service Interval
Maintenance Procedure
Before each use or daily
Grease the machine.
Check the condition of the teeth and rotate or replace any that are worn or damaged.
Before storage
Grease the machine.
Paint chipped surfaces.
If you leave the key in the ignition switch, someone could start the engine. Accidental starting of the engine could seriously injure you or bystanders.
Remove the key from the ignition switch before you do any maintenance.
Greasing the Machine
Grease the fitting in Figure 14.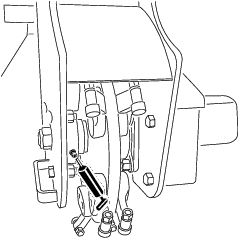 Grease Type: General-purpose grease
Park the traction unit on a level surface, engage the parking brake (if equipped) and lower the loader arms.

Shut off the engine and remove the key.

Clean the grease fitting with a rag.

Connect a grease gun to the fitting.

Pump grease into the fitting until grease begins to ooze out of the bearings.

Wipe up any excess grease.
Close section
Replacing the Teeth
Due to the high amount of wear placed on the teeth, you will need to rotate and replace them periodically.
Each tooth is indexed with three positions so you can rotate it twice, exposing a new sharp edge before replacing the tooth. To rotate a tooth, loosen the nut securing the tooth (Figure 15). Push the tooth forward and rotate it one third of a turn, bringing an unused edge to the outside. Torque the nut securing the tooth to 37 to 45 N∙m (27 to 33 ft-lb).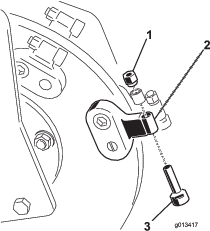 To replace a tooth, remove the nut securing the tooth to remove it, then install a new tooth and nut in the same position (Figure 15). Torque the nut securing the tooth to 37 to 45 N∙m (27 to 33 ft-lb).
Close section
Close section