Maintenance
While maintenance or adjustments are being made, someone could start the engine of the towing machine. Accidental starting of the engine could seriously injure you or other bystanders.
Remove the key, engage parking brake, and pull the wire(s) off the spark plug(s) of the towing machine before you do any maintenance on the aerator. Also push the wire(s) aside to prevent contact with the spark plug(s).
Recommended Maintenance Schedule(s)
Maintenance Service Interval
Maintenance Procedure
Before each use or daily
Check the tire pressure (Model 44856 only).
Check the tines for wear.
Every 100 hours
Check the main arm bushings for wear.
Check the bronze bushings for signs of wear. Replace any worn bushings.
Lubrication
Lubricating the Bearings
Lubricate the aerator with No. 2 lithium grease as shown in Figure 11.
Close section
Close section
The 6 main arms pivot freely horizontally and vertically to allow the unit to follow the contour of the ground. A bronze bushing is pressed inside the pivot holes between the main arm and mainframe. The bronze bushing is 3 mm (1/8 inch) longer than the thickness of both plates combined. Tighten the 5/8 x 2 inch bolt against the bushings, not the arms, to allow it to pivot freely (Figure 12).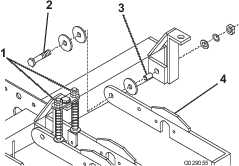 The purpose of the springs is to distribute the weight evenly and reduce the shock load on the pivot points. The springs are adjusted evenly across to level the unit. Use the nuts on top of the spring rod to adjust the springs (Figure 12).
Important: Do not adjust the spring so that the coils are completely compressed. Allow at least 1.6 mm (1/16 inch) of space between coils.
To obtain maximum aerating performance, always check the tines for wear before every use. Severely worn tines are easy to bend or break and leave the cores in the ground. See Figure 13 for examples of tine wear.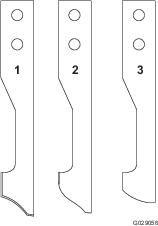 Always clean cores out of the tines before storage. Cores left in tines for extended periods can cause pitting on the inside of the tine which keep the core from ejecting.
Close section