Maintenance
Note: Determine the left and right sides of the machine from the normal operating position.
Important: You may tip the machine forward, if you drain the fuel tank or move the engine on/off switch to the STOP position, to make cleaning or servicing the machine easier. If you lay the machine onto the side, oil can drain out of the crankcase into the air cleaner or the muffler.Allow the oil to settle for at least 2 minutes after standing the machine upright before you start the engine.
Recommended Maintenance Schedule(s)
Maintenance Service Interval
Maintenance Procedure
After the first 25 operating hours
Change the engine oil.
Change the spring-housing oil.
Before each use or daily
Check the air filter.
Check the spring-housing oil.
Check the compactor shoe.
Remove debris from the machine.
Every 50 hours
Clean the air-filter elements (more frequently if conditions are dusty or sandy).
Clean the prefilter (Models 68034 and 68035).
Every 100 hours
Change the engine oil (more frequently if the operating conditions are extremely dusty or sandy).
Change the spring-housing oil.
Check the spark plug.
Every 200 hours
Replace the paper air-filter element (more frequently if conditions are dusty or sandy).
Yearly or before storage
Change the engine oil.
Change the spring-housing oil.
Important: Refer to your engine owner's manual for additional maintenance procedures.
Pre-Maintenance Procedures
Before performing maintenance on the machine, do the following:
Ensure that the engine and muffler are cool.

Disable the engine by disconnecting the spark-plug wire; refer to Disconnecting the Spark-Plug Wire.
Checking the Compactor Shoe
Among the most critical elements of the machine is the compactor shoe. It is also the most subject to damage and wear. In the course of compacting a wide array of granular objects, the machine encounters numerous abrasives and objects, such as dirt, stones, and occasionally a large rock or buried scrap.
The wear of the compactor shoe can significantly impair the efficiency and performance of the machine. Therefore, it is important to make frequent checks of the condition of the compactor shoe for leaks and cracks. (Figure 25).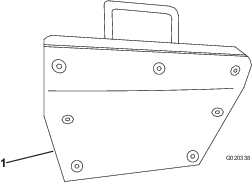 Removing Debris from the Machine
Regular cleaning and washing will increase the life span of the machine. Clean the machine immediately after use, before the dirt hardens.
Check before cleaning that the fuel tank cap is properly in place to avoid getting water in the tank.
Use care when using a high-pressure sprayer because it can damage warning decals, instruction signs, and the engine.