Maintenance
Note: Determine the left and right sides of the machine from the normal operating position.
If the extension cord is plugged into the appliance, someone could accidentally operate the appliance while you are performing maintenance on it, causing serious personal injury.
Remove the interlock button (key) and disconnect the extension cord before you perform any maintenance on the appliance.
Lubricating the Machine
You do not need to lubricate the machine; all the bearings have been lubricated at the factory for the life of the machine.
Replacing the Scraper
The scraper is located at the bottom of the rotor housing as shown in Figure 12.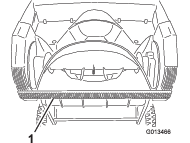 Remove the screw from each side plate that holds the scraper (Figure 13) and 2 screws from under the machine (Figure 14) that secure the scraper to the machine.

Remove and discard the old scraper.

Install the new scraper, and fasten it securely with the 4 screws that you previously removed.
Replacing the Rotor
Remove the screws that secure the right side plate to the machine frame (Figure 15).

Remove the rotor pin (Figure 16).

Remove the old rotor.

Install the new rotor by inserting the end of the rotor onto the fitted end in the housing and rotating the rotor until it snaps into place (Figure 17).

Note: Ensure that the nut that secures the rotor pin remains inside the recessed hole in the right inside wall of the housing.

Note: The housing will flex when you install the rotor.

Tighten the bolt on the side of the housing.

Install the right side plate with the screws that you removed in step 1.