The appliance used as a vacuum is intended for residential use only. Use it outdoors to collect debris as needed.
Using the appliance as a vacuum can throw debris, possibly causing serious personal injury to you or bystanders.
Do not operate the vacuum without the bag installed or with the bag zipper open.

Do not vacuum sharp, pointed, or hard objects that could be thrown through the fabric of the bag, such as wires, staples, nails, or rocks.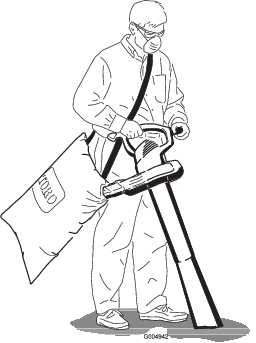 Important: Vacuum only dry leaves and soft items. Hard items such as sticks, rocks, acorns, and pine cones will damage the impeller.
Important: Do not force the vacuum tube into a pile of debris or hold the tube upright while force feeding debris into the tube. Either action may clog and damage the impeller. If the vacuum starts to vibrate or make abnormal noise, stop it, unplug the cord, and check for the cause.