When using an electrical appliance, basic precautions should always be followed, including the following:
READ ALL INSTRUCTIONS
BEFORE USING BLOWER
WARNING—To reduce the risk of fire, electric shock, or injury, follow these safety instructions.
To ensure maximum safety, best performance, and to gain knowledge of the appliance, it is essential that you or any other operator of the appliance read and understand the contents of this manual before operating the appliance. Pay particular attention to the safety alert symbol

which means CAUTION, WARNING or DANGER-personal safety instruction. Read and understand the instruction because it has to do with safety. Failure to comply with these instructions may result in personal injury, risk of fire, or electrical shock.
WARNING-To reduce the risk of electric shock, do not use the appliance on wet surfaces. Do not expose it to rain. Store it indoors.
Do not allow appliance to be used as a toy. Do not use near children. Do not let children use the appliance.
Use only as described in this manual. Use only manufacturer's recommended attachments.
Dress properly. Keep hair, loose clothing, fingers, and all parts of the body away from openings and moving parts. Be aware of the position of the blower and the air inlets during operation. Loose clothing, jewelry and hair can be drawn into the inlets and may result in personal injury. Always wear substantial footwear, long pants, and eye protection.
Do not handle appliance with wet hands.
Do not put any object into openings. Do not use with any opening blocked; keep free of dust, lint, hair, and anything that may reduce air flow.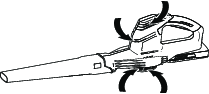 Turn off all controls before removing the battery pack.
Use extra care when cleaning on stairs.
Save these instructions
Do not charge the battery pack in rain, or in wet locations.

Do not use a battery-operated appliance in rain.

Remove or disconnect the battery pack before servicing, cleaning, or removing material from the appliance.

Do not dispose of the battery pack in a fire. The cell may explode. Check with local codes for possible special disposal instructions.

Do not open or mutilate the battery pack. Release electrolyte is corrosive and may cause damage to the eyes or skin. It may be toxic if swallowed.

Exercise care in handling batteries in order not to short the battery pack with conducting materials such as rings, bracelets, and keys. The battery pack or conductor may overheat and cause burns.
Safety and Instructional Decals
| | |
| --- | --- |
| | Safety decals and instructions are easily visible to the operator and are located near any area of potential danger. Replace any decal that is damaged or missing. |